Wow, it has been a while since I have posted. What with work, the crazy weather, my printer going to printer heaven, babysitting my DGD...guess I have been busier than I thought!

I have also been busy working on new cards. Here are a few that I made using the Cricut, Cuddlebug and Computer.

I lucked onto a terrific stamp web site called Cornish Heritage Farms. They manufacture their own stamps and let me say they are top notch!



"A Tweet for You" uses their bird and sentiment stamp. Isn't that the cutest bird?

The circles and tags were cut with the George cartridge.
I used the Jasmine cartridge for the corners. The holes in the larger circles were done with a cropadile.

Prismacolor pencils and mineral spirits were used to color the birds.

There is a tiny drop of stickles "Icicle" on the bird eyes.


Another card that I have been working on is called "What's Moo?" I just love farm animal stamps!



The cow stamp is from Michael's, and the "What's Moo?" is another Cornish Heritage Farm stamp.

The cow was stamped with black pigment ink then heat embossed. I used embossing pens to color in the face, udders and horns then heat set with clear embossing powder.

Circles & tag cut with George Cartridge.

I found this terrific straw paper at JoAnn's.

The red cardstock is embossed with the cuddlebug pasley folder.

I wanted to show the inside of this card also. I put the card into my printer before doing anything else. Using Word I created the words "Udderly nothing here!". Then printed this onto the cardstock. Isn't that a great way to say what you want when you don't have a stamp for it?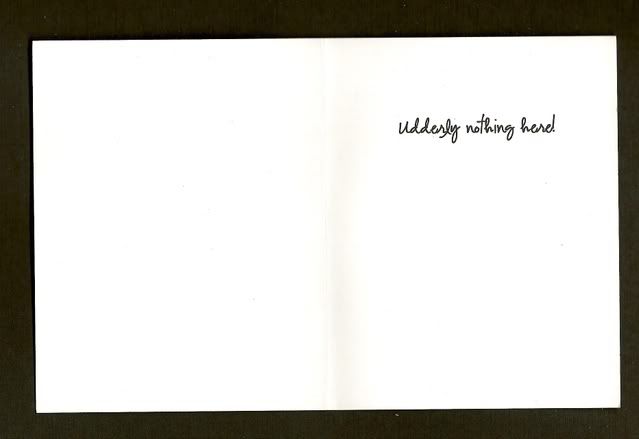 Please post any comments you might have. I'd love to hear from you!