I was asked to make a teacher appreciation card. I've never done one before but decided to give it my best shot. Here is what I came up with. I also made the cute paper clips to go with.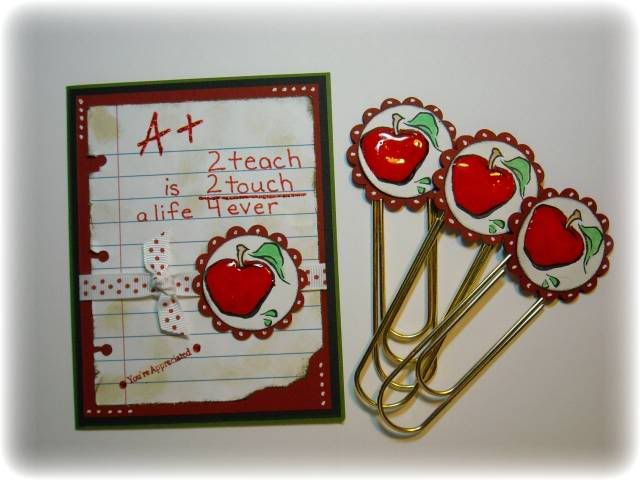 The apples were stamped with stazon black and colored in with a Stampin Up marker. I covered them with glossy accents to give them that terrific shine and 3-d effect. When they were dry I punched them out using a 1 1/2" circle punch. I used 2 scalloped punched circles for each clip, one for the front and one for the back.
I found the notebook paper at HL. I cut it down to fit and punched 3 holes. I tore the paper from the hole to the edge then distressed all the sides. I inked the edges with walnut stain distress ink and used the old paper distress ink to "dirty-up" the paper.
I hate my handwriting but decided that writing the saying by hand was the best way to get it on the paper and stay within the lines. I added stickles to the A+ and doodled the white dots.
I mounted the notebook paper onto Dark Autumn Red cardstock then on a black mat. The card base is a green that matches the leaves in the apples.
The inside is simple with a black mat and a small piece of the notebook paper. I left it blank so my friend can write what she wants to the teacher.
All in all I think this is a cute card and I love the paper clips!