Sometimes I feel that there is not enough time in a day to do everything I'd like to do. Between work, crafting, shopping, and my family I am so tired at the end of the day. My recliner has become my best friend in the evenings! LOL
I've had maintenance at my apartment off and on for the last week. Our building finally has a management company that is getting all the neglected repairs taken care of. But it is a real pain to deal with the maintenance guy coming and going. Most of my repairs were in the bathroom which ment that I had to pack up everything under the sink (I didn't know I had collected so much stuff under there!) and remove all the rugs, shower curtain, etc. It's finally fixed and now I'm looking at all the boxes that need to be unpacked but really should go through and toss a lot away. I'm just not in the mood to sort bathroom junk!
I've also been trying to learn a new stamping technique and if I get it perfected I'll post for you to see. It's very simple and very cool. But positioning is everything and I'm just not getting it right yet. Stay tuned....I'll show you this real soon.
I'm also feeling my age today. Yesterday was such fun "hanging" with my Son, DIL, and DGD. We went to one of those liquidation expos up in Milwaukee. It was very odd. So many things for sale but I was surprised that most of the electronics (like computers and monitors) were actually older models that had been refurbished. But my DIL and I found purses that we really liked. I don't really know much about purse brands but my DIL says these are Coach knockoffs. I just like it! LOL
The baby was pretty tired after all the shopping too. She loves to shop and talk to everyone around her but by the end of the day she was pooped! Take a look...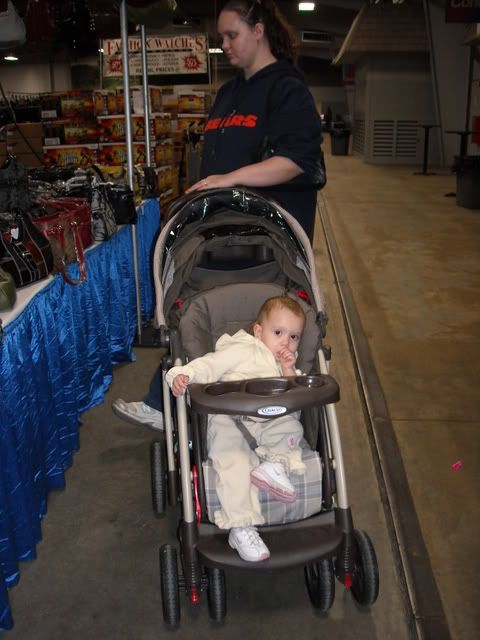 She slept all the way home. I also had my very first experience playing a Wii and today I have a sore arm and shoulder from the tennis and bowling games! Getting old is not fun! LOL
Well, this got very long, but I wanted to update you all on why I haven't been posting as much. I'll try to do better if things slow down.
Take Care.