This card was a lot of fun to make. The stamp is one I picked up at a convention. Just the rubber and I mounted it on E Z mount cling. The card stock is from Prism. The patterned paper is from my stash.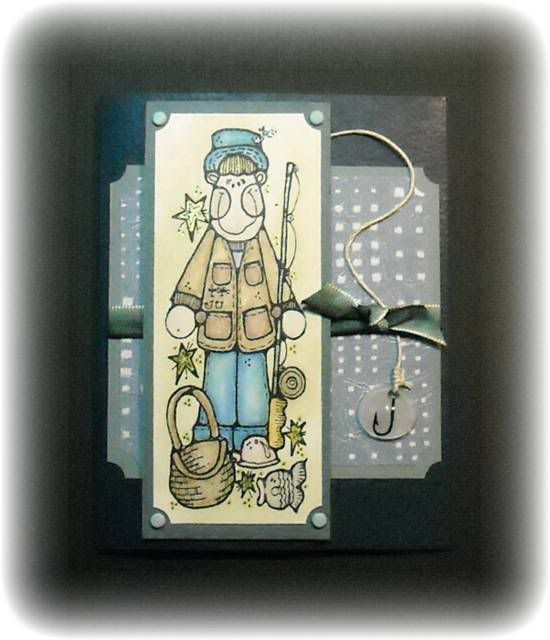 I colored the image using prismacolor pencils and sparkling gel pens. I highlighted the edges of the image with Stampin' Up's River Rock ink. The corners were punched with Stampin' Up's ticket punch. I love this punch and think it give an extra dimension to the images.

The most fun was in creating the fish hook charm using Shrinky Dink Frosted film. It was so easy and I still giggle like a child as it shrivels and shrinks! I stamped the fish hook onto the film using Jet Black Stazon Ink. I then punched out the image using a 1 1/2" circle punch. To get the hole for the string I used an ordinary 1/4" hole punch. A heat gun was used to shrink the film.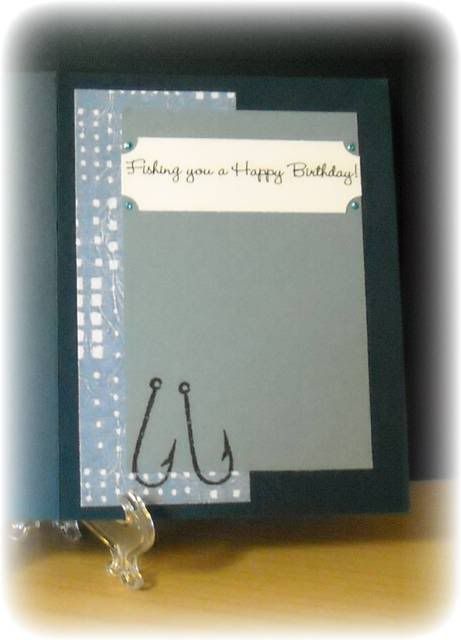 For the inside sentiment I printed the saying onto Stampin' Up Ivory cardstock using the computer. I added a couple of fish hook stamps to the inside. You can see how large the stamp really is as compared to how tiny it becomes on the shrink film. Isn't that a blast?