I needed a card for my 23 yr old nephew's birthday. What kind of card would someone his age like? I decided to use my new "Card Game" stamps from Stampin Up.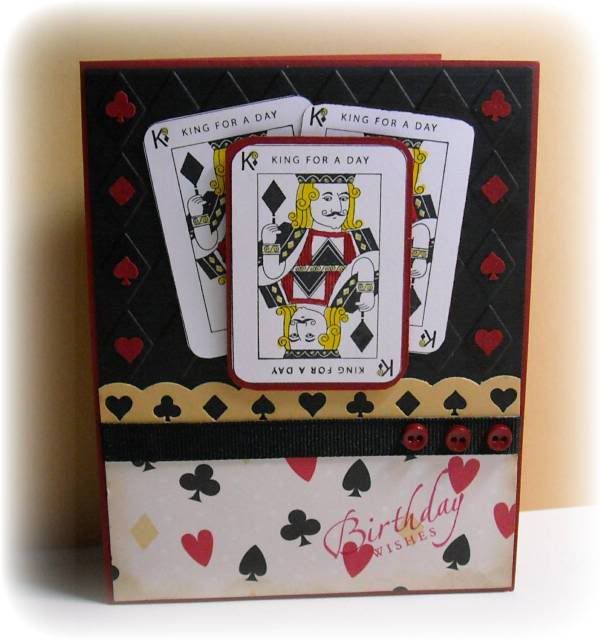 The suits DP is Stampin Up's Jackpot. I inked the edges with River Rock and stamped the birthday wishes from Sincere Salutations.
The black cardstock was run through the Cuddlebug using one of the new embossing folders called diamonds.
The gold scallop was punched with the EK Success Card Suits border punch. I also punched the border punch in red then took the shapes and glued them onto the center of the diamonds.
I added a black ribbon and some red buttons for an accent.
I stamped the King for a Day using stazon black then colored with markers. I used a glitter pen also, but it doesn't show up very well. I created a red mat for the center card and used pop dots to put it on the card.
The inside is a computer generated sentiment. I used the Stampin Up Wheel to create the red suits on the cardstock. Since it didn't want to stamp cleanly I decided to go with that and tore a hole in the center and inked the edges with River Rock to give the whole thing a distressed look.
Not wanting to waste anything I used the shapes left over from punching the gold scallop and randomly glued them to the inside also.
Sure hope he likes it. You never know with guys!