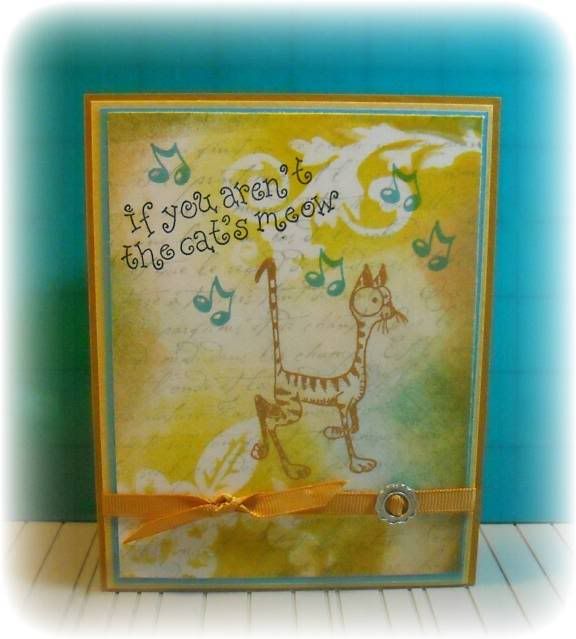 A friend came over yesterday and we spent the entire day playing with techniques we had not tried before. It was a ton of laughs as we messed up, created a huge mess, and generally had a great time. Since she lives in my building we both kept bringing out more and more supplies. Eventually my dining room table looked like a scrapbook store! But it was fun to see what we could come up with.
One of the techniques we tried was using Tim Holtz Distress Inks, Masks, and Perfect Pearls. I created the background of this card by stamping a script background stamp first. I cheated and used Stazon Dove Gray but I didn't want the image to smear. Next we applied masks from one of the mini-mask sets then went over the card using Distress Inks. We used Broken china, Peeled Paint, Dried Marigold, and Mustard Seed. I love how it turned out so I decided to finish it into a card.
I added the cat stamp which is an old woodmounted stamp by a company called Diamonds. I used Aged Mahogony distress ink and while it was still wet applied copper Perfect Pearls. When I brushed off the excess powder the cat has a super copper shimmer. I added the notes and the saying (which is from a TAC set) and there you have it!
This is a fun technique to try. You don't have to be precise. Just smoosh the colors onto the card and see what you get. Give it a try!