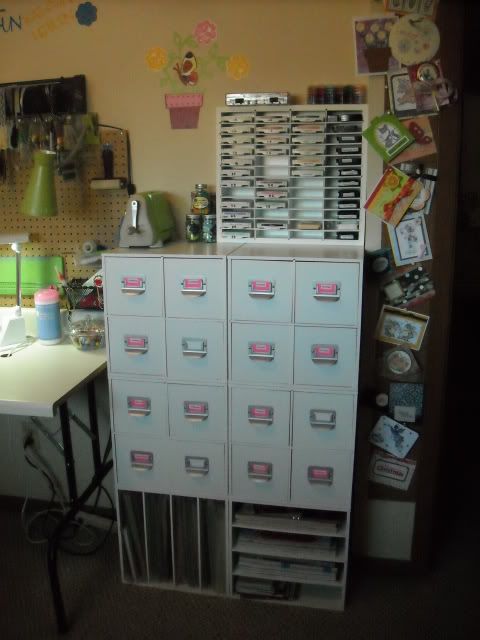 Bindi from Australia asked me for information on some of my storage cubes. I thought I'd share this information in a post for other people that were looking for the same info.
My 4 drawer Jet Max cubes were purchased at Michael's. They are still available (I checked yesterday). The overall demensions of 1 cube is 14.5" deep by 14.25" high by 14.25" wide. These are the outside demensions. They are made with a 1/4" thick board.
The individual drawers are 6.25" wide by 14.25" deep by 6.5" high.
The paper cubes have 4 sections. The overall outside demensions of the cube is the same as the 4 drawer cube. The individual sections are 3.25" wide.
Lastly she asked about my ink storage. I purchased the 48 Ink Organizer from
Organizemore.com
. I have had the organizer for 2 years and have been totally pleased with it. At one time I had the organizer hanging on the wall but right now it sits on a table next to my work area. The quality and durability is fantastic. They also come with different colored dividers for those of you that want to coordinate with your room. I plan to purchase another one very soon. Check out their web site and send them an email to see how much shipping might be to your country. I love their product and didn't think it was right to give out the details.
Hope this answers all the questions you have. If not.... just let me know. Happy organizing!