In these tough economic times I have challenged myself to use things from my stash. I was rearranging some of my inks and embossing powders and came across 2 pots of Ranger's Perfect Pearls that I had purchased last year. I'm also on a mission to make my own background patterns instead of buying patterened paper.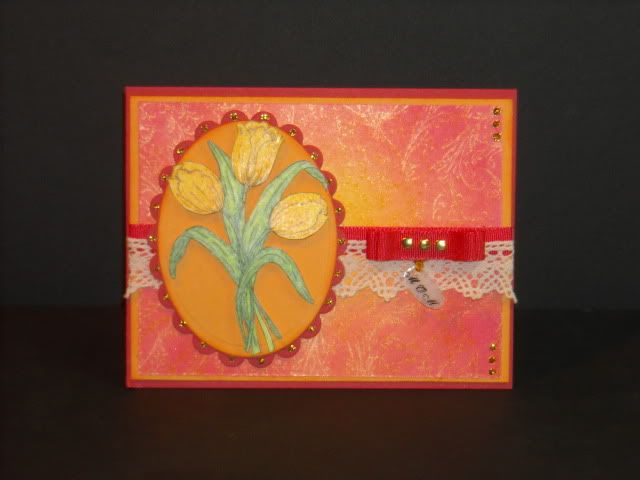 To Create the background for this card I started with a 4" x 5.25" piece of Stampin Up Whisper White Cardstock. I inked the cardstock starting with YoYo Yellow in the center, gradually blended in Marigold Morning and finished the edges with Rose Red. After this dried I used a background stamp that I inked up with Destress Ink in Mustard Seed. Destress Ink stays wet longer than dye inks and works great for applying Perfect Pearls. I chose the Mustard Seed color so that it would be very subtle.
While the ink is wet use a small paint brush and dip the tip in the pot of Perfect Pearls (I used Copper) and brush over the sections you want to highlight. When you are finished adding the Perfect Pearls use a larger paint brush and brush over the entire image removing the excess. What you have left is a shimmery pattern. Click on the top picture for a larger view. It shows the pretty shimmer.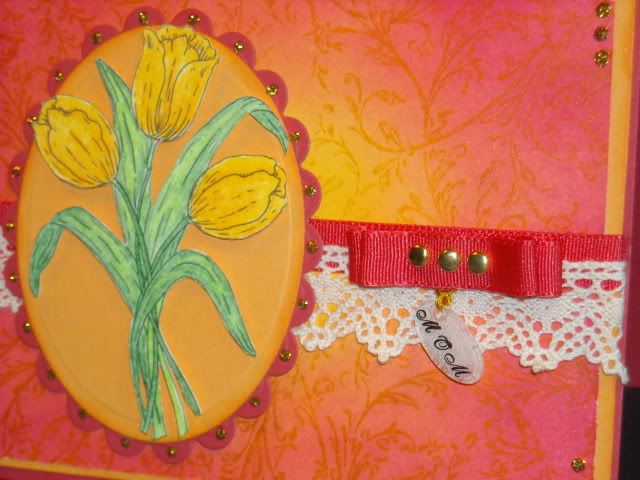 I finished the card using a digi image that was colored with Prismacolor Pencils and cut out. I also created a tiny Mom charm using Shrinky Dinks. Hope you try using Perfect Pearls soon. You will be amazed at how cool the finished image is.
Here is a link to
Ranger Perfect Pearls Embellishment Pigment Kit, Metallics
so you can see all the cool colors it comes in. Enjoy!