Do you get in a rut? I sure do so I was looking at my dusty Cuddlebug and realized how lonely the poor bug was. I pulled it off the shelf, dusted him off and put the little darlin' to work!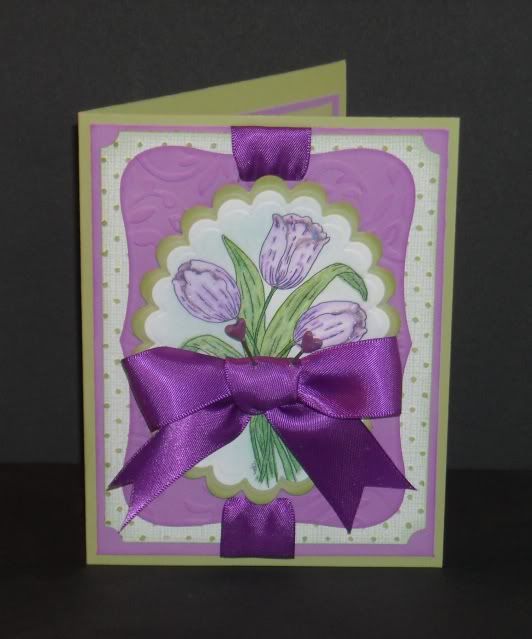 To begin this card I had colored my image with Primacolor Pencils. I used a Classic Scallop Small Oval Nestability to cut it out and emboss the edge. I figured out that Stampin Up's Certainly Celery color matched the leaves and Orchid Opulance matched the purples. So I cut a layering oval out of the Certainly Celery and a used one of the Label Eight shapes to cut out the purple shape. I embossed the purple layer using a Cuddlebug embossing folder. I inked all the edges using matching inks and gently rubbed over the embossing with a sponge dauber and Orchid ink.
Another stash find was my pack of Core'dinations Whitewash cardstock. (Forgot I had this!) I cut a mat and embossed it with the swiss dots folder. After I sanded the top the green dots came to life. By now my Cuddlebug needed a nap!
I put the card together and wanted to add the heart pins but they were in a really gross orange color. I had found them at a garage sale last summer for $.25 and at the time thought I'd find some use for them. I stared at these gross looking hearts for the longest time and finally remembered a tip my friend told me about.
I dug out a violet pigment ink that was sitting in a drawer. Then I inked the heart end of the pin with the violet ink and quickly dipped it into clear embossing powder. Carefully using my heat gun I set the embossing powder and TADA... Violet heart pins!
So keep digging through your stash and use up what you have! Reduce, Reuse, Recycle.