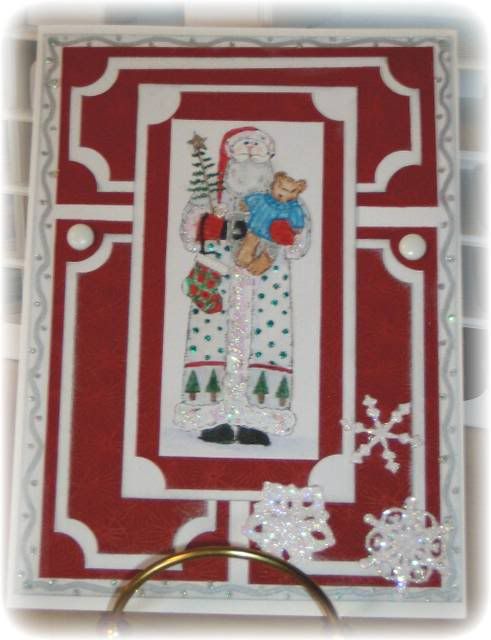 I know it's August, but I wanted to start making Christmas Cards now. I know I take forever to get a single card finished so it was a good bet that if I started now I just might have enough finished to actually send out this year! LOL
This is a terrific Santa stamp from Stampin' Up. He is part of a 1998 Set called Christmas Is Here. I colored the image with Prismacolor pencils. There are Crystal Stickles on the front of his robe and the white part of his hat. Green Stickles for the dots on his robe.
I had a heck of a time cutting the corners. I used 1/2 of a small oval punch.
The border is hand doodled and crystal stickles were used as the dots.
I also used the Joys of the Season Cricut cartridge to cut out the snowflakes. Ran them through my Xyron upside down and covered them with glitter.
I don't recommend this paper at all. There is NO adhesive that wants to stick to it, and believe me, I tried everything. Even my trusty ATG did not want to adhere to this paper!
FYI: The card is 5 x 7, DP is Paper Company "Starburst Translucent"