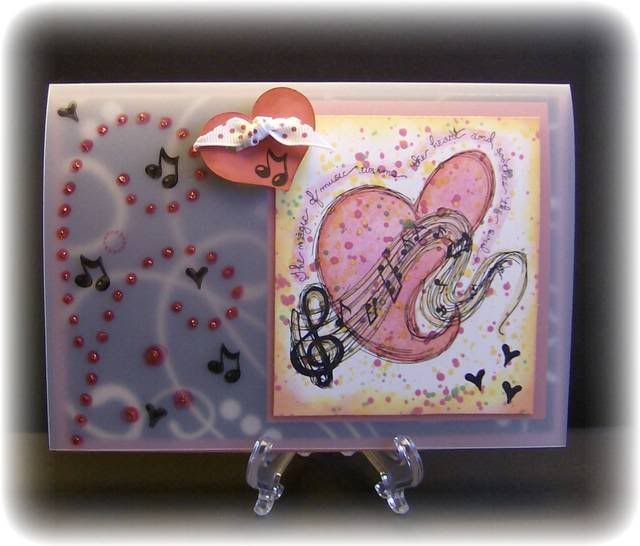 I picked up this stamp at HL's this past week. I thought it was so pretty. I've used it to create this Valentine card on frosted acrylic that I purchased from Sheetload of Cards.
This was a tricky image to color. First I stamped with black Stazon ink onto Stampin' Up Whisper White cardstock. Next I used Prismacolor pencils and outlined the heart in red. I scribbled pink in the center of the heart then used the MCPT to blend the 2 colors into each other. I highlighted the music lines with a burnt yellow pencil. The stamp's picture shows all the splatters of color and to recreate it I put a couple of drops of ink from my Stampin' Up Reinkers into separate wells of a paint palete. Then using a tiny paint brush I dipped it into the ink and tapped the brush to create the splatters. I did this using red, yellow, pink, and green. I also managed to splatter my work surface, my tee shirt, my hands and my wall! But it was worth it! LOL Lastly I inked the edges of the cardstock with yellow and red Colorbox ink.
I stamped the dotted swirls on the acrylic using Stazon Red ink. After I was sure it was dry I added small drops of red stickles to the dots. The music notes and tiny hearts were stamped using Stazon Black ink.
Here is the inside: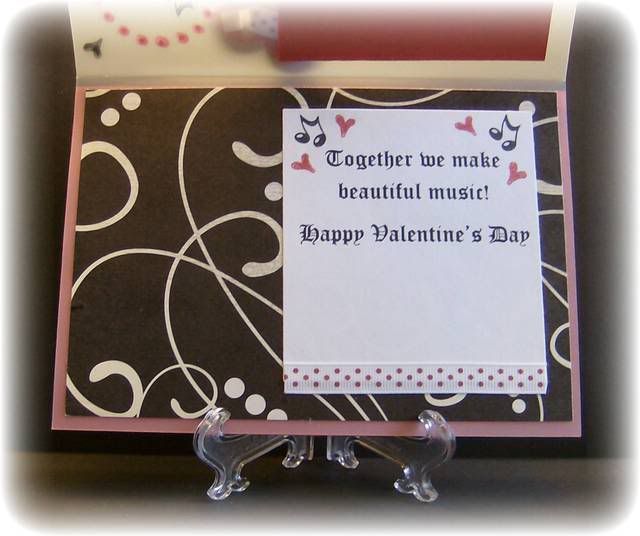 The verse was printed onto the cardstock using my computer.