Do you find that you collect stamps and then never use them? Well I do... so I dug through my stamps and came across this one from Rubbernecker. I hadn't used her because I was looking for just the right saying. I found a saying at an expo 2 months ago so I have no excuse! This is Edna, one of the Rubbernecker "Old People" stamps. They are so cute I wish I had them all.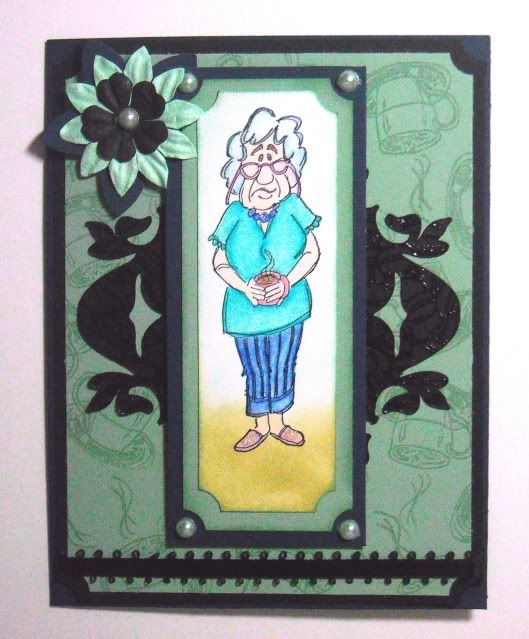 I used Stampin Up cardstock in black, Night of Navy, and Sage Shadow. Using Versamark Ink I stamped a coffee cup over and over to create a background pattern. The black decoration is a left-over frame that I had cut from my cricut for another project. I think it was from the Storybook cartridge. I took a background stamp that is coffee beans and stamped with versamark over the frame then heat set clear embossing powder.
Edna was colored with Prismacolor pencils. I added glossy accents to the lens' of her glasses and stickles on her slippers and necklace.
The inside saying says... Behind every successful women is a substantial amount of coffee.