I was watching a video on Stamp TV and saw one on using babywipes and reinkers. I thought this was the coolest idea and decided to give it a try. My card didn't come out nearly as pretty as Gina K's but it's not too bad. Here is a link to the 2 videos that show how to do this:
Baby Wipes As An Inkpad
Baby Wipes Background
Watch these 2 videos and give this a try. I'd love to see how your cards turn out!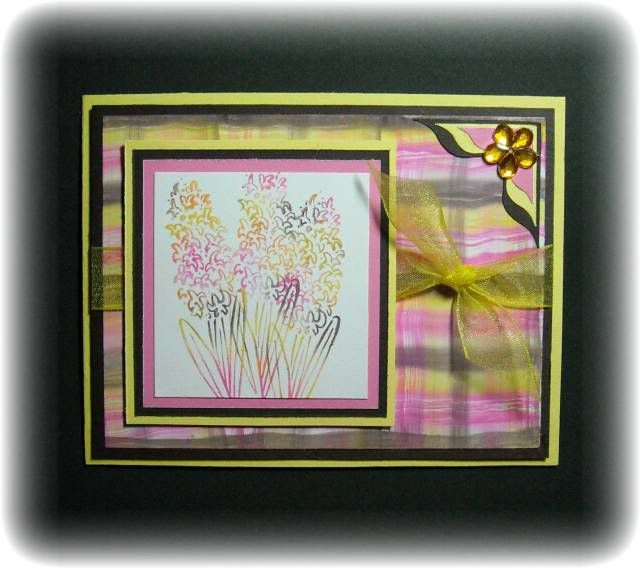 I used Stampin Up reinkers in yoyo yellow, chocolate chip, and pink passion. Since I have trouble drawing a straight line I decided to make the lines wavy. It did take a few minutes for the ink to dry on the glossy paper (Stampin Up) but only about 5 minutes. While I waited I cut out the card and mats. I used my Cricut Jasmine cartridge to cut out the corners. I used real dial size and cut the brown at 2 1/2", the yellow at 2", and the pink at 1 1/2".
I'm thinking of adding a touch of yellow stickles on the flowers. Or maybe just some glitter? What do you think? Anyway it's a pretty cool technique. I didn't even get very messy! Imagine that!